As well as the Club's roster of locomotives, members regularly run their own machines at Sandiway. These include live steam, petrol and battery-electric locomotives. The locomotives are not kept at Sandiway, being brought to the site by their owners, on the days on which they will be running. Check our news section to see when any of these will be visiting.
Quarry Hunslets
(Thanks to Sol Johnson for his extensive notes about these locomotives.)
The Hunslet Engine Co. of Leeds built 2 foot gauge quarry engines for the slate quarries in Wales, the first engines being produced in 1865. Most engines were destined for the Dinorwic slate quarry and the Penrhyn Railway system. The Penrhyn Railway system closed in 1962, with the tracks being removed in 1965, leaving the engines at the quarry. Fortunately, all the engines from Penrhyn were saved and preserved by 1968. The Dinorwic slate Quarry closed in 1969, with all remaining engines and equipment being sold by the end of that year. Fortunately a wide variety of Hunslet locomotives are still preserved today and can be seen on various narrow gauge railways around the country. Several models of 'quarry Hunslets' are owned by members of MCSME and are seen and operated at Sandiway regularly.
Gloin
Gloin is a 1/3 scale 7.25″ gauge model of a Port class quarry Hunslet. The engine was bought by its current owner Andy, from the original builder of the engine. The name Gloin is a fictitious character from the Hobbit chosen by her builder but has works plate number 316, which was carried by a locomotive named Gwynedd built in 1883. Weighing approximately 300kg, Gloin has an extended firebox and has a copper boiler, making it a wonderful performer. Its driving truck has air braking system is installed; it also has a generous storage area under the seat for bits and pieces. The engine takes about an hour to steam up, during which plenty of cleaning and polishing of the brasses and paint work is done. Gloin is very reliable and forgiving, which makes it a good engine for beginners into the hobby to learn how to drive, fire and look after a model steam engine correctly.
Lady Joan
Works number 1429 Lady Joan was built in 1922 for Port Dinorwic. Originally called simply No.1, it was later renamed Lady Joan. In 1961 the port closed and the engine was put into storage. In 1964, Lady Joan was removed from storage; block buffers fitted and its cab roof was removed so it could be used around the quarry. Lady Joan was withdrawn and sold privately in 1967. Its last change of ownership came in 1997, when it was moved to the Bredagr and Wormshill Light Railway, where work and a repaint (to a brighter shade of red) were undertaken before it again in 1999. Lady Joan remains at the Bredgar and Wormshill Light Railway and is used periodically on their open days throughout the year.
In 1995 Geoffrey Brett completed a 7.25″ inch gauge quarry Hunslet based on Lady Joan, an obvious choice given that his wife was also called Joan. The model operated on a private miniature railway near bath until 2002, when it was taken out of service for a boiler re-tube. It remained dismantled until 2007 when the Brett family organised the overhaul of the engine, during which various improvements were made, including the addition of new cab spectacle plates, dummy lubricators and a brass name and works plate. It was repainted into Penrhyn lined black. Finally, in 2018, further work saw new steel tyres fitted to both tender and locomotive, new injectors and whistle valve and the all-important its 10 year boiler exam and ultrasonic testing. The locomotive regularly visits the Sandiway Miniature Railway, where it is operated by the Brett family pulling passenger trains.
Lilla
Works number 554 Lilla was built in 1891 originally for the Cilgwyn quarry, where she was generally used for the "main line" which went from the slate mills to the west tip. In 1928 she was sold to the Penrhyn slate quarry. In 1963 Lilla was purchased privately and underwent substantial work to return it into steam. Upon completion, in 1972, it went to Battersea Park for a steam exhibition, still requiring a few adjustments required, work on the engine only being completed a few days before the exhibition. After a year at the Bala Lake Railway, Lilla moved to the Ffestiniog Railway, where had a boiler inspection and strip down at Boston Lodge in 1995. In 1997 the Ffestiniog Railway trust bought Lilla for use at events and to visit some other narrow gauge railways. Lilla is still based at Ffestiniog Railway and has recently undergone a complete overhaul. It continues to be used for special events and occasional use on non-passenger services.
in 2010, Jon Green decided to build his fourth Hunslet locomotive, a 7.25″ gauge Lilla based on the 2 foot gauge locomotive located at the Ffestiniog Railway. Lilla took Jon eight years to build, including a tender on which driver sits behind the locomotive. It was completed, tested in late 2018. Adjustments were made with more testing and a third injector being added from the tender water feed. The engine frequently visits the Sandiway Miniature Railway.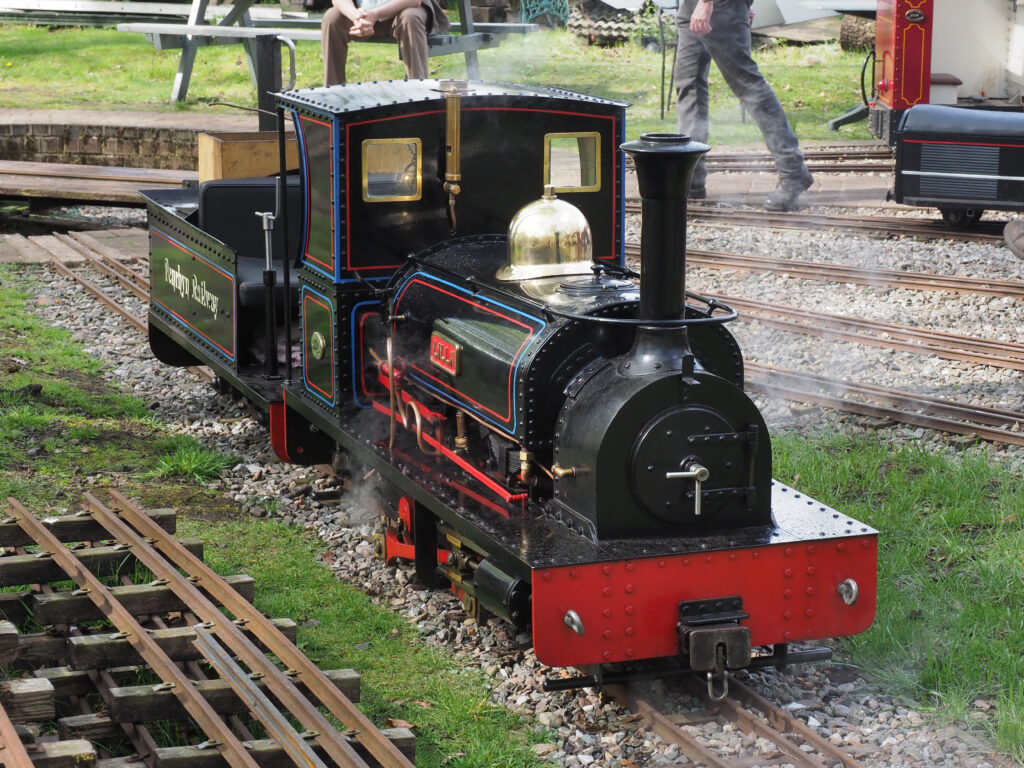 Red Damsel
With works number 493, this Alice class locomotive was built in 1899 for the Dinorwic slate quarry, where it was named Enid but was soon renamed Red Damsel. It was used for many years at Dinorwic before requiring overhaul. Whilst the in bits, awaiting overhaul, the Quarry was closed and the engine, along with others, was sold. Its new home was the yet to be named Llanberis Lake Railway. When the rebuilding of the locomotive started it was discovered that its nameplates were missing. Finally it was named Elidir, this being the name of the mountain which gave rise to the quarry and thus, indirectly, made the Llanberis Lake Railway possible.
In 1986 Jon Green started building his first 7.25″ gauge locomotive, a quarry Hunslet which took four years to complete. It has a copper boiler and firebox, and it is a little larger than the drawings to increase its steaming and power abilities. When completed a tender was made for the driver, coal and additional water space, and it was named Red Damsel after the original based at the Dinorwic slate quarry. It ran until 2012, when the tender was modified, two of the bearings changed and general maintenance undertaken. With other projects on the go, Jon sold Red Damsel to Nick Johnson and his son, Sol, in 2016. All three being members of MCSME, Jon continues to enjoy and drive Red Damsel. In 2020 the engine turned 30 years of age, and remains in use frequent use at a number of miniature railways, including Sandiway.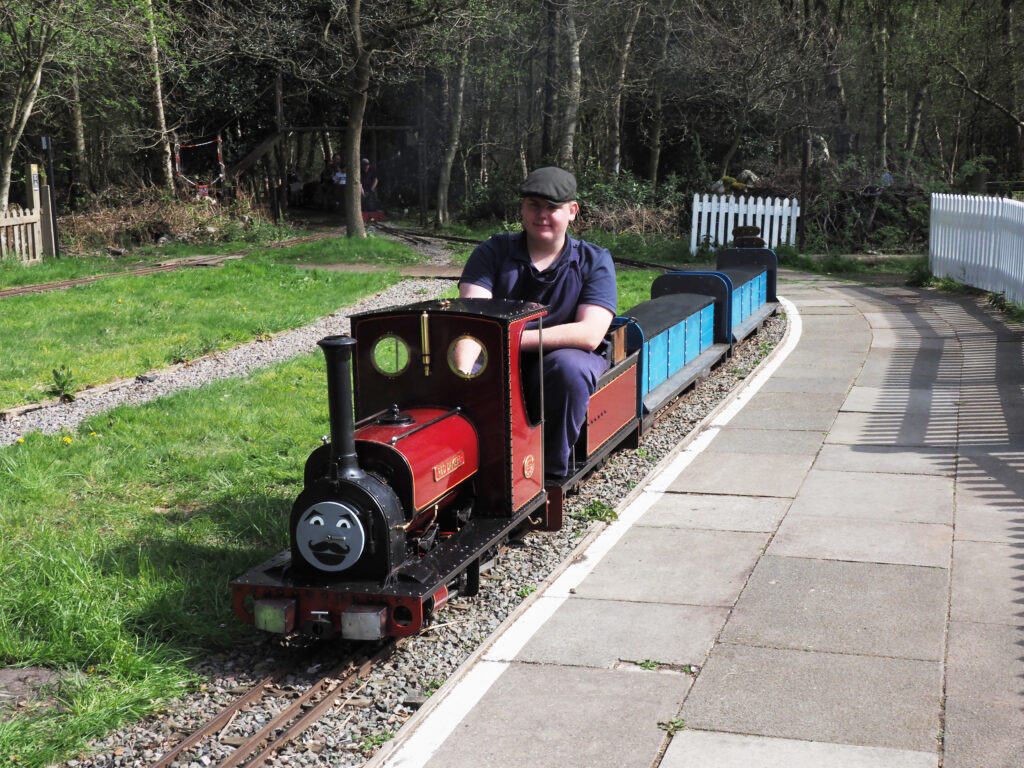 Vivien
Vivien is a 7.25″ gauge model of a Bagnall 0-4-0 tank engine. These ubiquitous locomotives could once be seen across the country working in a wide variety of industrial settings. W G Bagnall was a locomotive manufacturer from Stafford, founded in 1875, the majority of their products being small four- and six-coupled steam locomotives for industrial use, and many being narrow gauge.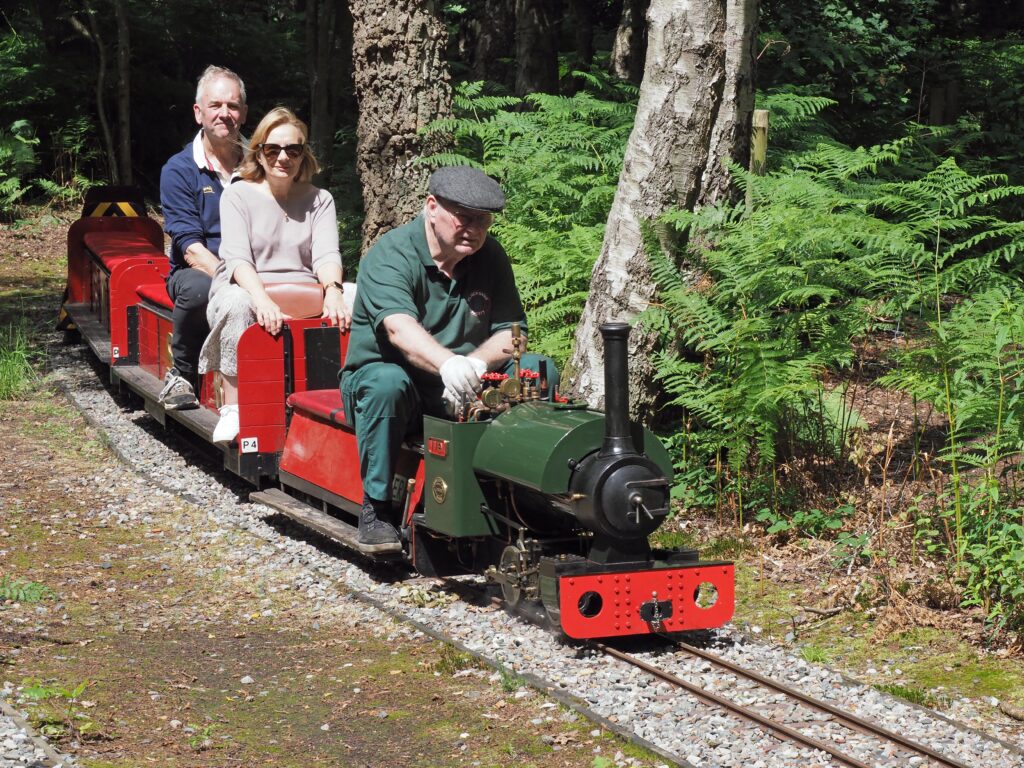 The Dangerous Brothers (1)
Brothers Steve and Richard regularly operate a pair of Class 20s on passenger trains at Sandiway. These two 7.25″ gauge battery-electric machines are based on the popular diesels that date from the late 1950s, some of which remain in main line service to this day. Despite being electrically powered, sound cards fitted to them create an impressive recreation of the originals.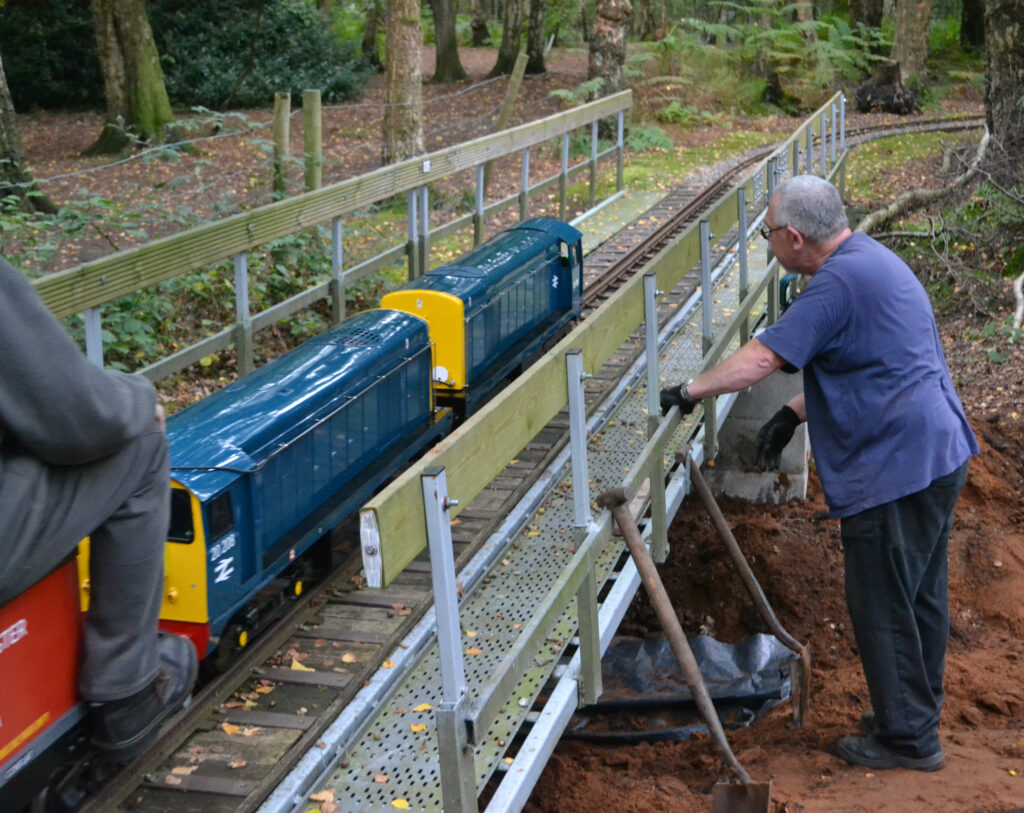 Their other visiting locomotive is a model of a Class 08. These are 0-6-0 diesel mechanical shunting devices, still to be found working across Great Britain, well into their seventh decade of operation. The model isn't as powerful as that of the Class 20 (and certainly not two Class 20s!) so is not generally used for passenger trains at Sandiway.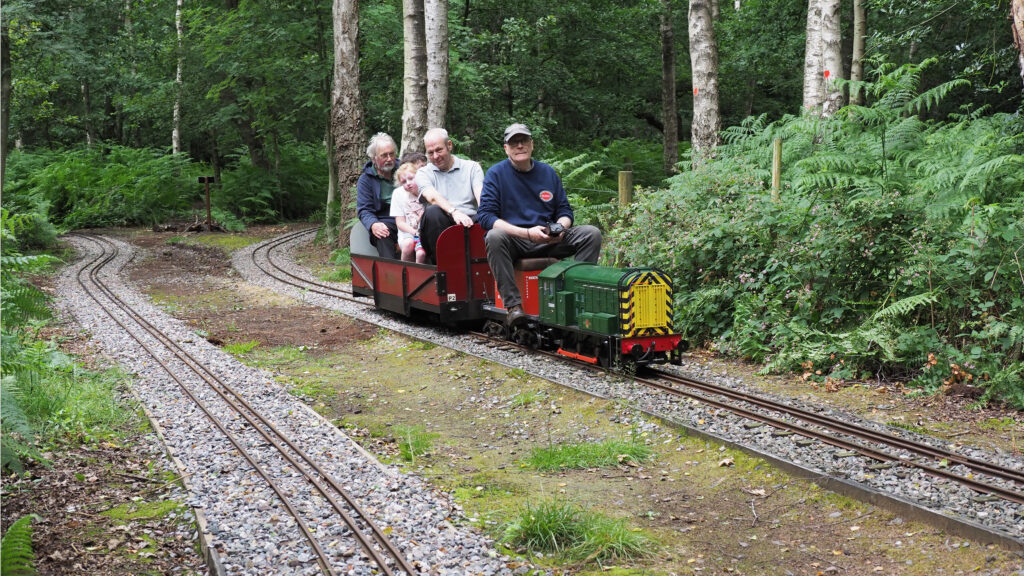 The Dangerous Brothers (2)
Scamps 49 and 105 were each built from kits and owned by Chris Poole and Neil Brady respectively. The Scamp is an 0-4-0 'minimal' locomotive with an electric traction motor that can be powered either by a petrol engine and dynamo, or by a battery. In common with the vast majority of Scamps, these are both built to 7.25″ gauge. On the circuit at Sandiway, the two Scamps generally run as a pair (with a driver on each) to provide enough traction for a loaded train. The Scamp was designed by Colin Edmondson who, coincintally, is also a member of MCSME. Well over 100 Scamps have been built and a book, The Story Of The Scamp, was published in 2020.